Learning Path
The Learning Path module incorporates into the Open eClass the SCORM prototype technology (Sharable Content Object Reference Model). SCORM is a standard for web-based Learning. It defines how the individual instruction elements are combined and sets conditions to the platform for using the content. This module offers the opportunity to the course teacher to create a sequence of steps (learning path) as learning activities, which should be followed by the students. Learning paths contain the course material (course documents, self-evaluation exercises, Internet useful links, course description etc.) or SCORM type object, as a specific learning action sequence of an eCourse.
Through this module, the student can be navigated in the available educational material and follows the steps as set by the teacher, in a specific order. Also provides platform the ability to watch learning progress, time and evaluation of the student in the several learning path steps.
Learning path consists of units (at least one). The units are independent learning objects. In the current Open eClass platform, these tools may belong to one of the following five categories:
Documents: Documents (any type of file) available in the course "Documents" area.

Exercises: Self-evaluation exercises which are available on the course "Exercises" tool.

Links: Useful links available through the course "links" tool.

Course Description: The description that is available through the "Course Description" tool (description, course content, educational activities, books, etc).

SCROM type content: These units are the result of inserting course packages that are compatible to the SCORM standard. Their contents depend on what has been included in them by the creator, which is documents, exercises, links, text and anything else that is approachable according to the SCROM definition, so that the platform can use it appropriately.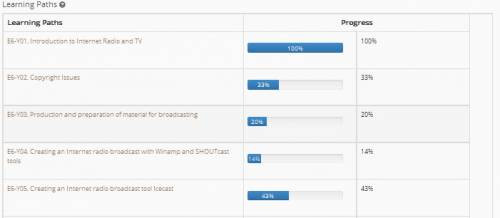 In order to start a learning path, you need to click the learning path title from the list. At first, each learning path progress and course progress will have a proportion of 0%. After all learning paths of a course have been completed; its progress will be at 100%.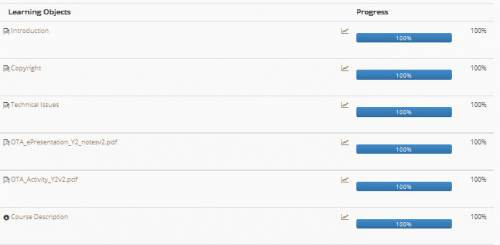 There are some useful information and options:
If you click on the arrows LEFT RIGHT you can move on to the next learning path unit or return to the previous one.

If you click on the EPISTROFI sign, you can return to the learning paths list and not complete the learning path at that particular moment.

If you have successfully completed the unit, there is a check next to the unit name.

Also when a learning path unit is completed, progress can be seen on the corresponding bar, while its indication is 100% when all of them have been completed.