Course Assignments
The Course Assignments module is a very useful tool since it allows the electronic admission, submission and evaluation of course assignments. More specifically, it allows registered student users to upload electronically their assignments in the platform until the submission date and then see their grade, after the teacher has graded them.
If you click on "Course Assignments", you can see the assignments placed on the platform by the course teacher, the deadline for submission, and the grades, if the assignments are evaluated by the teacher.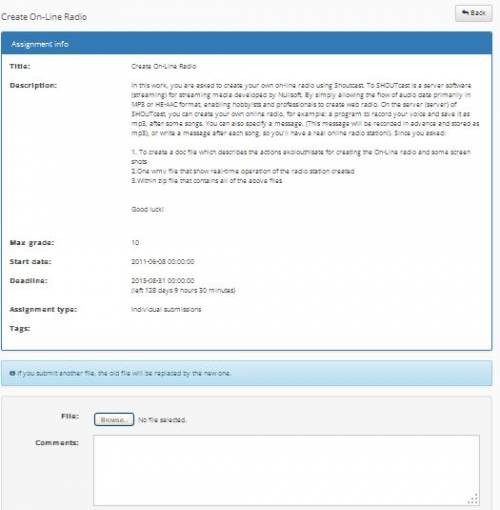 If you click on the assignment title, you will be able to see more information about the assignment, like the title and description of the assignment, the starting date and the assignment submission deadline, the type of assignment, individual or group one. You can upload your assignment from your pc to the platform.

Click on "Browse", navigate yourselves in your local driver and select the file you want to upload

You can type a description of your assignment as well

Click on the "Send Assignment" link
The uploading process starts and you will soon be able to see your assignment document in the assignment submitted list. Notice that you cannot delete documents you have already uploaded, but you can upload revised versions of your assignments, so as to replace the previous ones, until the deadline, you are otherwise denied the opportunity to submit your assignment.