Forum
The eCourse discussion forum is a teacher - student interaction module. The platform offers the opportunity to create forums, allowing participation to all registered in the course users (students and teachers).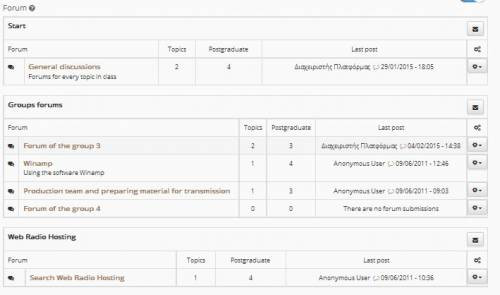 Furthermore, you can see the last insert in every forum subject, the number of forum subjects and the number of messages. Clicking on a topic you can participate in the units it includes. More specifically, you can watch all topics discussed, the topic sender, the date the message was posted, the answers sent for the specific topic, and the number of times it has been read, as well as the date and time when the last answer was sent.
If you want to read messages in a topic, click on the topic title and you will see its contents. Messages are read downwards and at this stage you have some choices to make. In order to send an answer click on the "Answer" link and type your message in the textbox and then click "Submit" to send your message or click on "Cancel" if you do not want to send it.
If you want to start a new conversation, click on "New Topic". Type the topic of the conversation and the message in the corresponding textboxes. In case of a mistake you will view an error message. Sometimes, it is necessary to use the "Go Back" button of the browser so as to make the error message disappear.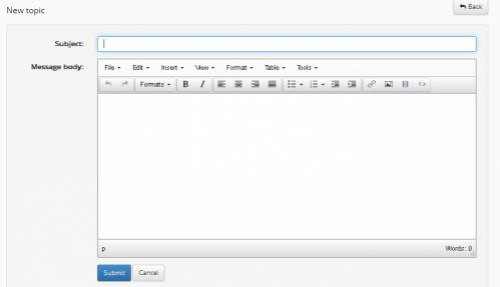 If the course teacher has added you in a group (see Groups), it is possible that there will be a folder with group discussion forums. These forums are usually closed to group members depending on the teacher's decision. "My group" will appear next to your group forum. If groups are closed, you can click on the groups you belong to only.