User Groups
Another course module that allows cooperation and interaction among the students is the User groups.
A group of users is a group of course registered students who share the same forum and the same file and assignment uploading area. If the course teacher has set a number of user groups, you can click on their group's name to see:

The groups of users organized by the teacher

The number of registered users in each group

The maximum number of users possible to be registered in that team

If you belong to a group, there is a "my group" sign next to the group title
If there is a "Registration" option next to the group names, these groups are not full and you can register. If you have registered to a group which is not full of members, in order to participate:
Click on the "Registration" option next to the group name you want to participate in

Then, click on "Add me to the Group"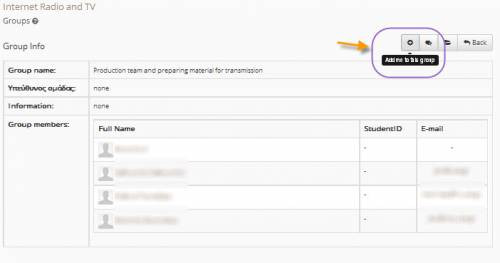 Since you are a member of a group, you are provided a common document area so as to share files with other members of the group, as well as a group forum. The group forum offers you the opportunity to communicate with all the group members. The document area allows you to upload, rename, delete and remove files, create folders and sub-folders so as to organise your documents in a better way.
Group Assignment
If you want to submit a group assignment you have to upload your group's assignment file to the common group document area and the click on "Publish" and fill in all the form fields very carefully. Any member of the group can submit a group assignment file. Alternatively any member of the group can upload a group assignment through a submission form in the Course Assignments module.